Description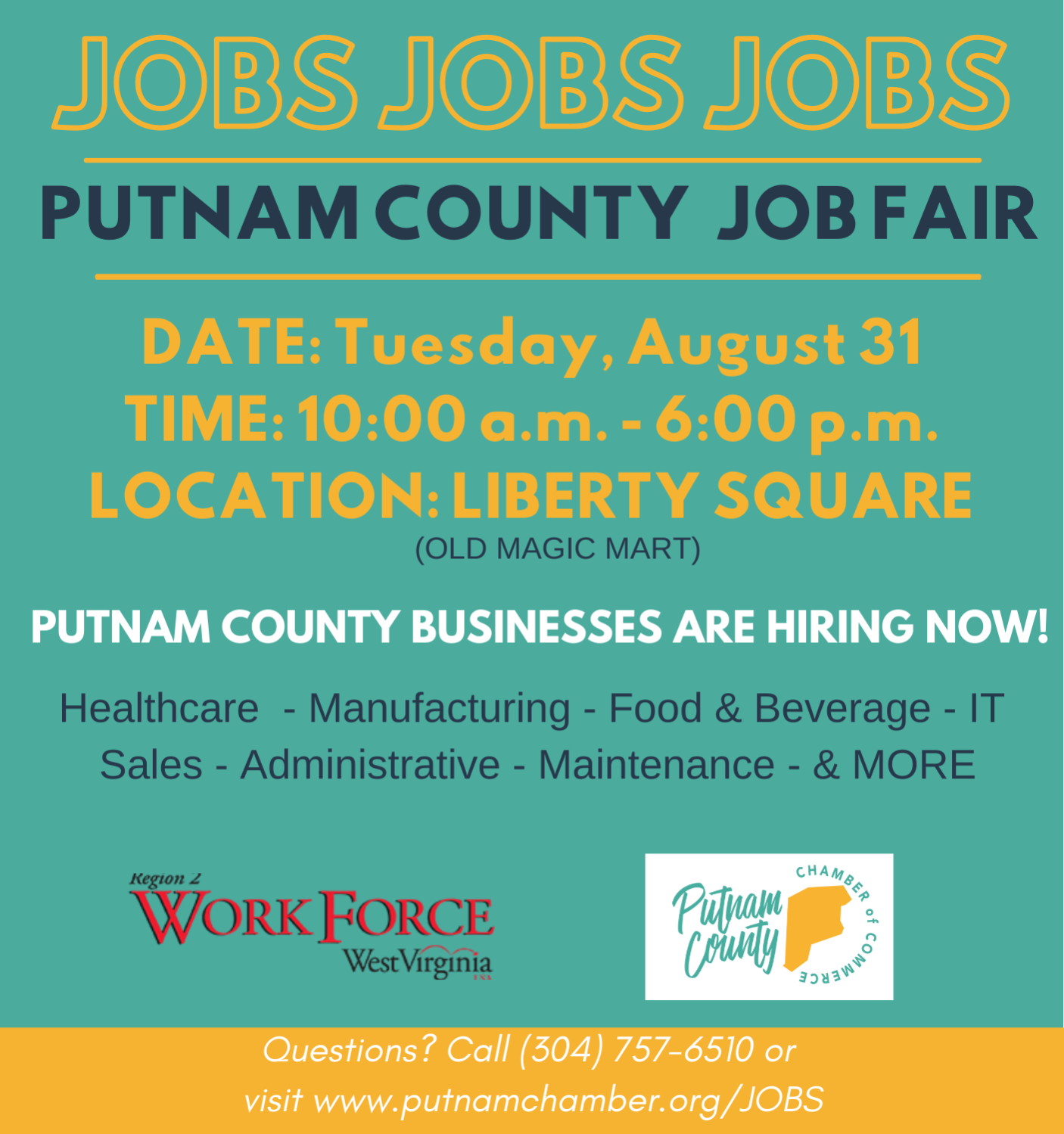 The Putnam County Chamber of Commerce in partnership with WV Region II Workforce is hosting a JOB FAIR on Tuesday, Aug. 31 from 10:00 a.m. to 6:00 p.m. in Liberty Square (old Magic Mart).


SCHEDULE OF EVENTS:
10:00 a.m. - 11:00 a.m. - Veteran Hour
11:00 a.m. - 2:00 p.m. - Job Fair Open
3:00 p.m. - 6:00 p.m. - Job Fair Open
With over 20 employers participating there will be tons of opportunities to gain employment at one of our great Putnam County businesses. Employers will be offering onsite interviews.
PARTICIPATING COMPANIES:
BRIGHT FUTURES LEARNING SERVICES
CAMC TEAYS VALLEY HOSPITAL
COAST PERSONEL SERVICES
CREDE LAWN CARE
DIAMOND ELECTRIC
EXPRESS EMPLOYMENT
FAMILYCARE HEALTH CENTERS
FL SMIDTH
GARAGE DOOR OPERATORS
GINO'S
INFINITY MARKETING SOLUTIONS
MANPOWER
MARSHALL HEALTH
PARMAR STORES
RANDOLPH ENGINEERING
RELIANT DRUG TEST SOLUTIONS
ROLLING MEADOWS
RUNYAN & ASSOCIATE REALTORS
SERVPRO
SIG MANAGEMENT
TASTY BLEND FOODS
TERRADON
TRIAD ENGINEERING
UNITED TALENT
JOBS & HOPE
WV RADIO/PIKEWOOD MEDIA GROUP
TRI-COUNTY YMCA
BELLAIRE AT DEVONSHIRE
US ARMY RECRUITER
TYPES OF JOBS:
Healthcare
Manufacturing
Food & Beverage
Janitorial
Civil Engineers
Environmental Technicians
Geologists
QA/QC Field Technicians
CAD Drafters
Surveyors
Painter
General Laborer
IT
Sales
Administrative
Maintenance
& MORE
Questions? Contact Ashley at (304) 757-6510.